Shop With SCRIP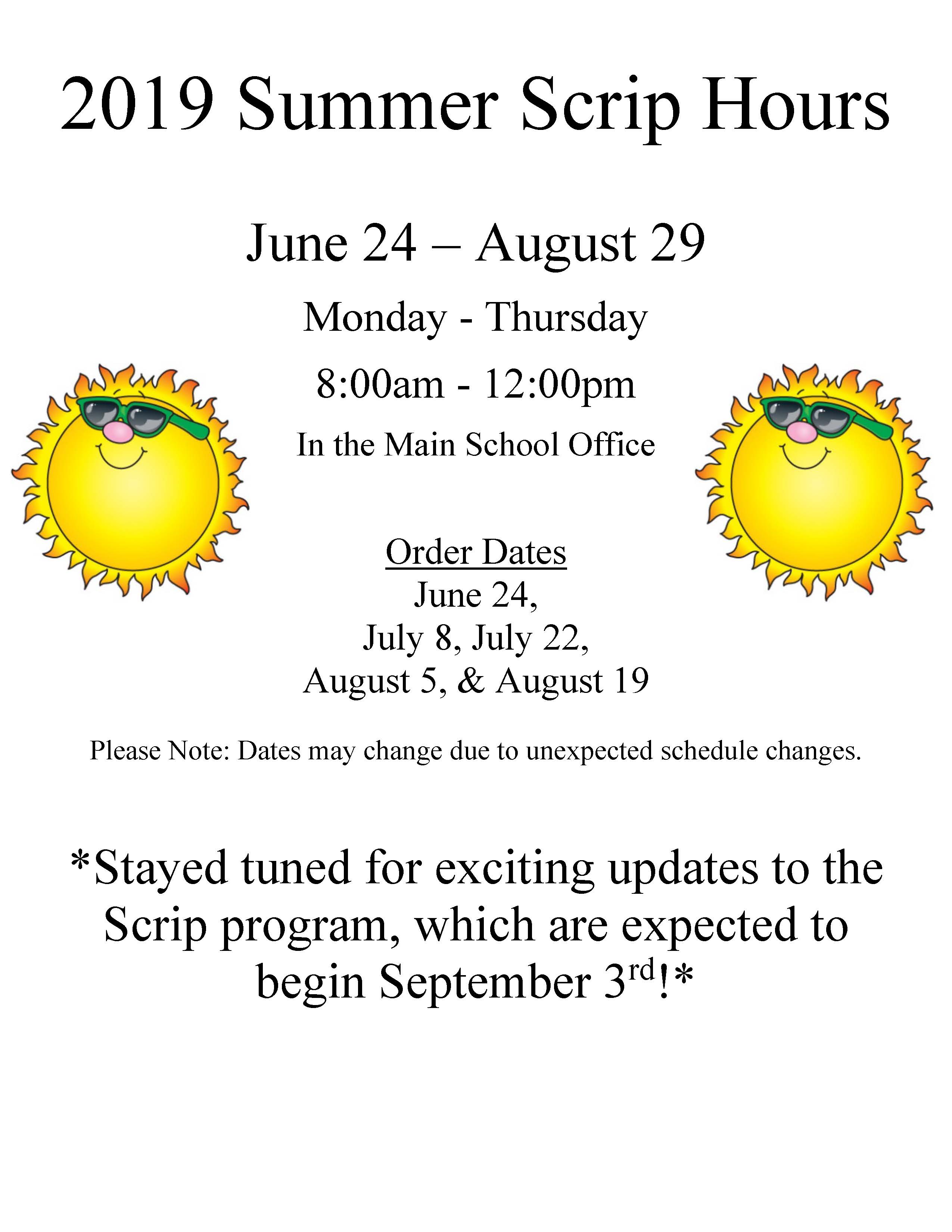 What Is SCRIP?
SCRIP offers our school an opportunity to help keep tuition costs down. SCRIP is simply a word that means: "substitute money" - in other words, SCRIP is gift cards/certificates from national and local retailers. They're the same gift cards that you buy at the store. Many popular retailers participate in our SCRIP program including Tops Markets, Delta Sonic, Frank's, Kohl's, JCPenney, Tim Horton's, Pizza Hut, Home Depot and many, many others. The beauty of SCRIP is that you put your regular household shopping dollars to work. SCRIP participating retailers agree to sell gift cards/certificates to our organization at a discount. Families like yours buy the gift cards/certificates for full face value, redeem them for full face value, and SME keeps the difference as profit.
SCRIP Challenge:
The profit from your purchases will be allocated 100% to the school. The goal is for each family to earn a profit of $250 in Scrip rebates. The average rebate profit from SCRIP vendors is ~ 5% so this makes our monthly goal ~$30,000 in SCRIP gift card sales. $30,000 is a lot, but we all know that many hands make light work.

| Vendor | Card Value | Profit % | Quantity Purchased | Amount Purchased | Rebate Earned |
| --- | --- | --- | --- | --- | --- |
| Tops | $100 | 5% | 4 | $400 | $20 |
| Kohl's or JCPenney | $100 | 5% | 1 | $100 | $5 |
| Tim Hortons | $10 | 5% | 2 | $20 | $1 |
| Monthly Total | | | | $520 | $26 |
| Annual Total | | | | $6,240 | $312 |

This is only one example of what can be purchased. There are many options available to reach the profit goal. Please take into consideration the places that you normally shop and dine, including purchasing your gasoline at Tops (gift cards accepted at pump) or paying your Kohl's charge card bills using SCRIP gift cards. This will take some commitment and planning on your part, but does not require you to make any purchases you would not normally make.
Thank you for your support in making the SCRIP program a success to our school, our Parish and for our children!
Please contact the SCRIP office at scrip@smeschool.com to find out how you can support this fundamental program.

SCRIP may be purchased in the following ways:
ORDER - Orders placed on Monday by 10:00 AM and will be sent home on Friday of that week. Any SCRIP cards available through Great Lakes Scrip, as well as the local vendors ordered directly by SME, can be purchased.
PURCHASE AT SCHOOL - A limited inventory of the more popular SCRIP cards is maintained in the SCRIP office and may be purchased during the scheduled SCRIP selling hours (Monday, Wednesday and Friday from 8:00-10:00). Additionally, orders may be sent in with your child on Tuesday through Friday and if the cards are available, they will be sent home with your child on Wednesday or Friday.
ONLINE - ShopWithScrip.com is free online SCRIP ordering. Using this feature, you can order from home and send in your payment, reload funds onto SCRIP gift cards you have already purchased, print your own SCRIPNow eGift cards and pay for your order with PrestoPay. See the ShopWithScrip enrollment form for additional details.
AFTER MASS - We aim to have a SCRIP volunteer available after each Mass (4:30 PM & 7:00 PM on Saturday and 8:00 AM, 10:00 AM and 12:00 PM on Sunday) with a limited number of Tops and Tim Horton's cards. These can be purchased after Mass in the back of the church.
LOCKED BOXES - There are locked boxes in the church foyer and outside the SCRIP office so that you can drop off orders whenever it is convenient for you. These orders will be sent home on the next SCRIP business day, based on card availability.
For each of these methods of purchasing SCRIP, order forms must be filled out completely, including your family ID number, and submitted with your order. Payment must accompany your order and be in the form of either cash or a check made payable to "St. Mary's Elementary School."
Details of the Scrip rebates earned by the school will be available in the News Notes on a regular basis.
For questions, email the Scrip Team at scrip@smeschool.com
SCRIP Links