Christian Witness Award
Christian Witness Awards are presented every month to a student in each homeroom who demonstrates Christ-like behavior to their classmates, teachers, other staff members or visitors. They are selected by their homeroom teachers based on behavior that the teacher observes throughout the month. The award is presented at the school mass on the first Friday of the month. As the student's name is read, the particular reason that the student was selected is also announced in order that they can be an example to the other students.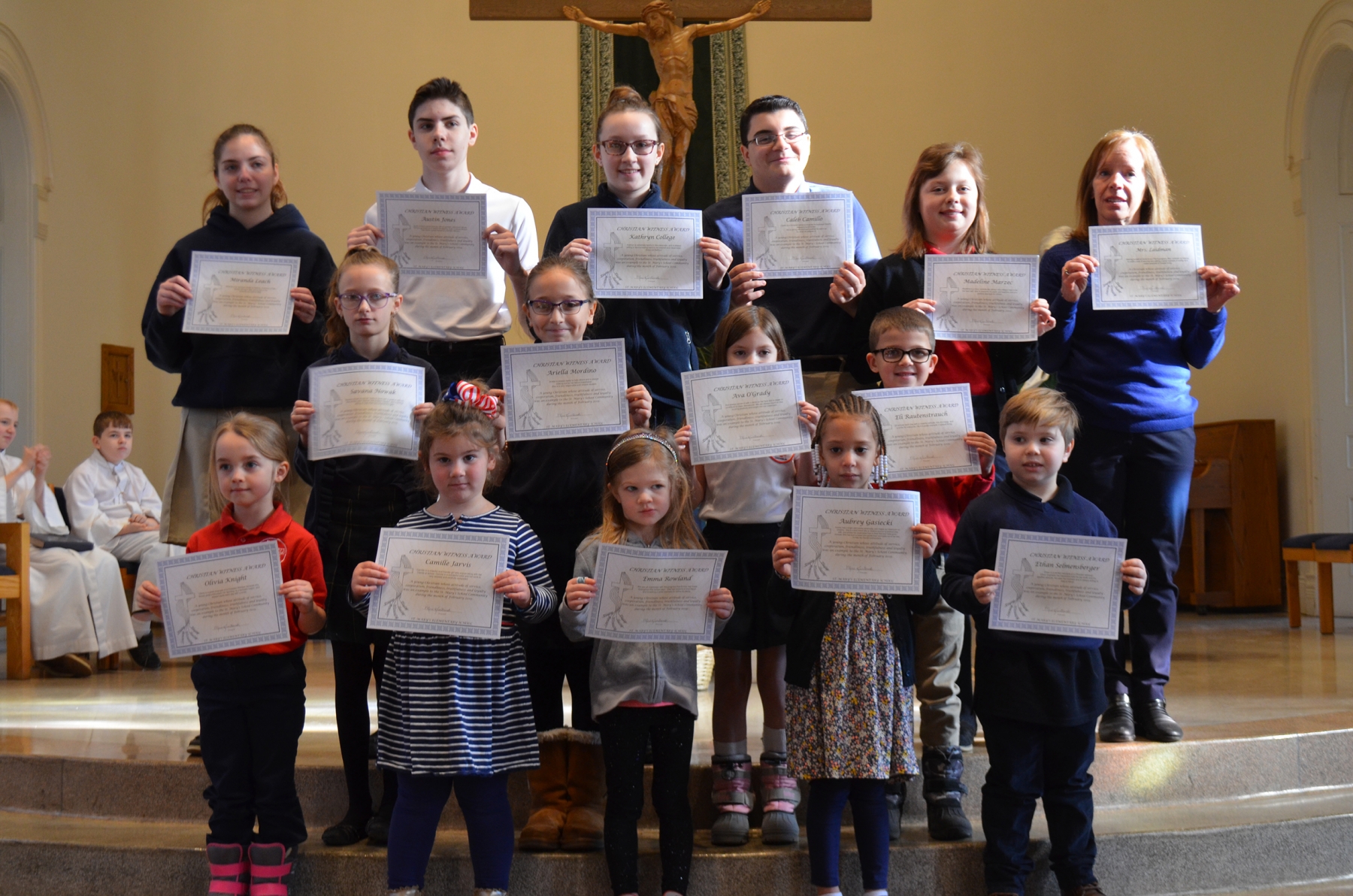 Pre-K - Bartkowiak
Layla is a great friend to everyone, she is polite, cooperative, and friendly coming to school ready to learn and help anyway she can.
Pre-K - O'Grady
Emma has become a kind friend and is setting a good example for fellow students.
Pre-K - Laidman
Camille is a cheerful and friendly girl who enjoys being with her friends at school and is a wonderful artist!
Pre-K - Jones
Aubrey is a kind friend who is creative and fun to pretend play with, and shows her classmates how to think first and make good choices.

Kindergarten - Michalek
Olivia shows great enthusiasm for learning, is a fantastic helper, and always starts each day with a smile.
1st - Marrano
Ethan brightens the classroom with his big smile and his positive attitude.
2nd - Malachowski
Eli arrives each day with a cheerful attitude. lots of energy and a smile for everyone.
3rd - Cooper
Ava always comes in with a smile on her face and is eager to contribute to class discussions.
4th - Brinkworth
Ariella is always ready to help others and is always looking out for her fellow classmates.
5th - Pierce
Kathryn is extremely helpful in the classroom, and is always willing to lend a helping hand to her teacher and classmates.
6th - Farina
Savana comes to school ready to work with a positive attitude showing each teacher and student respect, and is willing to help them any chance she gets.
7th - Wojnar
Austin arrives to school each day with an optimistic, determined attitude and has a genuine love of reading and learning.
7th - Misso
Madeline is a kind, considerate person who always tries to be her best self, she is respectful to peers and teachers and is a positive example for others.
8th - Trulin
Miranda is an excellent model of maturity, a witness of faith, always willing to help, and is kind to the students and staff at SME.
8th - Morrella
Caleb is always friendly, respectful and honest. He is caring and kind and unafraid to stand up for what he believes in.
Teacher
Mrs. Laidman - Making herself at home in our Pre-K program, Mrs. Laidman is helping to instill a love of learning and setting a great example of acting as a visible example of Gospel living.