Christian Witness Award
Christian Witness Awards are presented every month to a student in each homeroom who demonstrates Christ-like behavior to their classmates, teachers, other staff members or visitors. They are selected by their homeroom teachers based on behavior that the teacher observes throughout the month. The award is presented at the school mass on the first Friday of the month. As the student's name is read, the particular reason that the student was selected is also announced in order that they can be an example to the other students.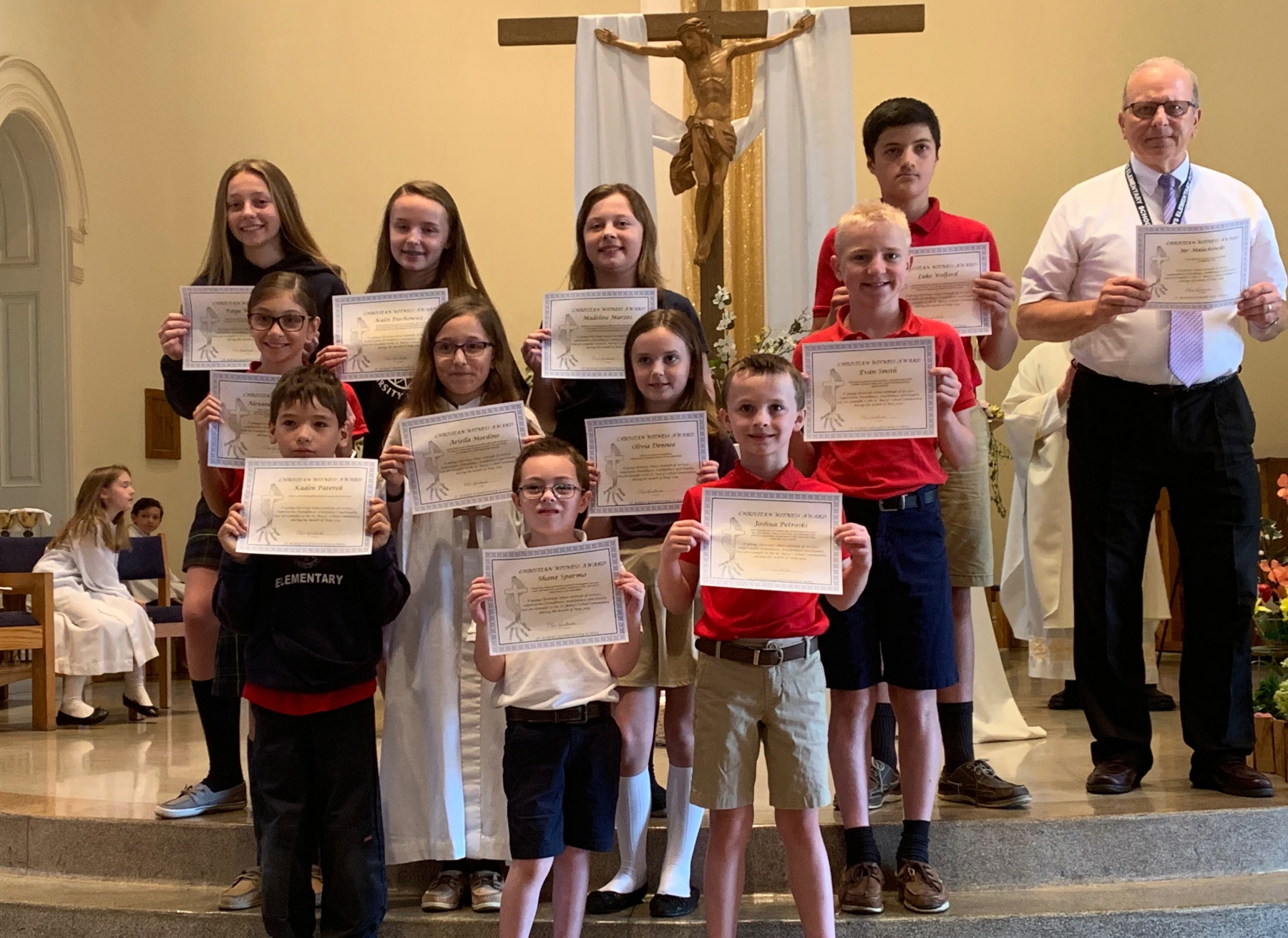 Kindergarten - Michalek
Shane has made wonderful progress in kindergarten; his hard work has made him a wonderful reader and writer, and he's a great friend to his classmates
1st - Marrano
Josh's energy and enthusiasm light up the classroom every day! He is always ready to work hard, and is smiling! Josh gives his classmates compliments on their work and helps when they may need it!
2nd - Malachowski
Kaden is a kind and thoughtful student who always tries his very best!
3rd - Cooper
Olivia is a model for all students, always trying to spread a smile to all her classmates.
4th - Brinkworth
Ariella always has a friendly and positive spirit often jumping in to help out without ever having to be asked. She can always be counted on to make responsible decisions.
5th - Bookmiller/Pierce
Alexandria is a prime example of a Christian Witness in the 5th grade classroom. She is always willing to lend a helping hand to anyone who may need it and greets each day with a positive attitude and smile. Allie is a visible example of Christ in the classroom.
6th - Farina
Evan always comes to school putting 100 percent into all that he does. He treats others with respect and always has a positive attitude.
7th - Wojnar
Kalei's patient, kind, and sunny personality lights up our homeroom each morning. She is always willing to lend a helping hand and is a true example of a Christian Witness.
7th - Misso
Madeline has distinguished herself by being responsible, kind and thoughtful. She has the ability to make friends with everyone and is always encouraging to her peers.
8th - Trulin
Paige is a model of maturity, a witness of faith, is always willing to help, and is kind to the students and staff at SME.
8th - Morrella
Luke has been polite, caring and respectful to all members of our class this year. He is always supportive of others and not afraid to be himself and stand out from the crowd.
Teacher
Mr. Malachowski - For all that you've done in your time at SME, we appreciate it all!