Friends After School Together

Welcome to the FAST Club program!
SME's FAST Club is an after school care program for our students.
Philosophy
St. Mary's extended day care is a ministry of St. Mary's Elementary School and provides after-school care to the students enrolled at St. Mary's Elementary School. Our FAST Club seeks to see children achieve a balanced growth physically, emotionally, and intellectually by creating an environment of love and trust.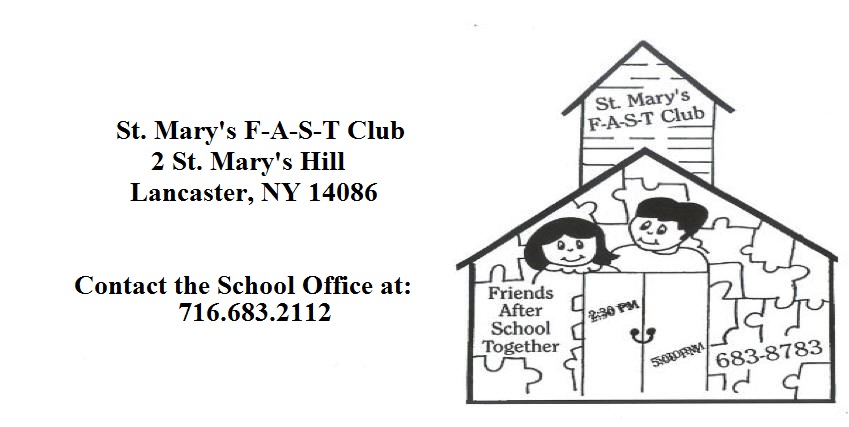 Here a child can learn by group participation, self-expression, and one-on-one interaction with an aide in his/her own way. It is our desire to be an extension of the home to reinforce the values and character development begun at home. We encourage a good working relationship between the home and the school.
Location
Students meet for FAST Club in various rooms within the school at the end of the school day. Multiple aides are present to provide an environment that is safe and enjoyable. Activities include art, board games, video movies, and homework time.
Time and Dismissal
The FAST Club operates from 2:30 to 6:00 p.m., Monday through Friday on all regular school days and 1:00 to 6:00 p.m. on the 1:00 p.m. early dismissal days. FAST Club does not operate on the 10:45 a.m. dismissal days.
If for any reason someone other than those authorized on the child's registration form is to pick up a child, a note signed by the parent must be presented to the person in charge.
Snack
Students may bring their own snack to eat during their stay in FAST Club.
Payment (2016-2017)
The cost is $6.00 an hour for a single child or $8.00 hour per family of two or more children.
Families will be invoiced for FAST Club payments due.

***Please Note - There will be an additional $10 fee assessed if a child is not picked up by 6:00 p.m. on any given day.
Registration
Registration forms are available by clicking on the link below or in the school office. There isn't a fee to register. Students may enjoy FAST Club on a scheduled basis or requested by the parent /guardian as needed. A note must be provided to the teacher each day FAST Club services are requested. FAST Club is available to all students Grades Pre K - 8.